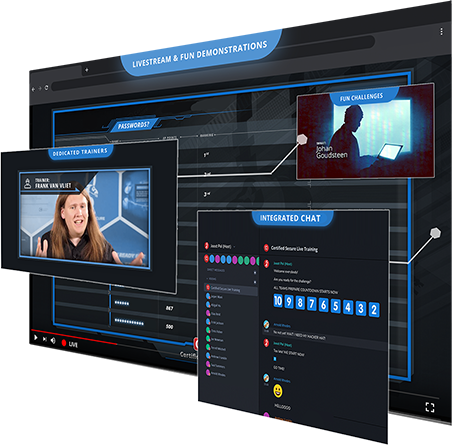 Certified Secure
Experience

Training
How does a Hacker look at your organization? How difficult (or easy) is hacking in the real world? Discover your own Hacker Mindset in the Certified Secure Experience trainings. The Certified Secure Experience trainings provide all participants with an easily accessible, fun and relevant introduction in the world of cybersecurity.
Request quote

Security Awareness
Experience Training
What are the REAL risks of insecure online behavior? Why is it dangerous to indiscriminately click on links? How do you recognize a phishing mail? What is a secure password? And how do you remember them all? What are the dangers of sharing personal information on social media? The Security Awareness Experience training provides answers to these questions!
During the Security Awareness Experience training an experienced Certified Secure instructor will guide the participants through a highly interactive and realistic scenario developed especially for this training. This scenario contains several realistic examples that illustrate how the insecure behavior of a single employee can result in serious consequences for the whole company.
The participants will experience the impact of a malware infection and the dangers of choosing a weak password. By experiencing security in a realistic (and fun) setting, the participants are able to develop a deep and profound understanding of the training material and covered subjects.
The following subjects are covered in this training:

Hacker Mindset
Experience Training
How does hacking REALLY work? What is an SQL Injection attack? How difficult (or easy) is hacking really? The Hacker Mindset Experience training answers these questions. The participants are exposed to various hacking techniques and start to develop their own Hacker Mindset.
During this training a Certified Secure instructor will present several hacking techniques using selected Certified Secure challenges. The participants will learn how hackers think and will familiarize themselves with the most important techniques. Using their new found Hacker Mindset, the participants will able to make a more realistic assessment of the risks to their own organization.
The following subjects are covered in this training:
More Information
Thanks for your interest in our Certified Secure LIVE trainings! Complete the form displayed below and we will contact you as soon as possible. We are also directly reachable at +31 70 3101340 or via email at info@certifiedsecure.com. Our privacy statement is applicable to this form.